日本語で下に書いてます。
Happy Easter
Hi everyone how's going?? I'm having a good easter holiday.
Today I'd like to write about outside activity for BBQ in Melborune.
I was suprised that having a free BBQ grill in park . Free BBQ grill means I can use BBQ grill in the park. We don't need booking, don't have to need pay for use a BBQ grill. Because I never see like this BBQ grills style in Japan. Actually we have a BBQ grills but I think there is in camping place, we have to bring the BBQ grill or we'll make a natural BBQ grill by myself.
This place is near my house. Today we were having a outside picnick in park.
We brought rice ball, sweet corn and sausage. 
Look!! very clean right??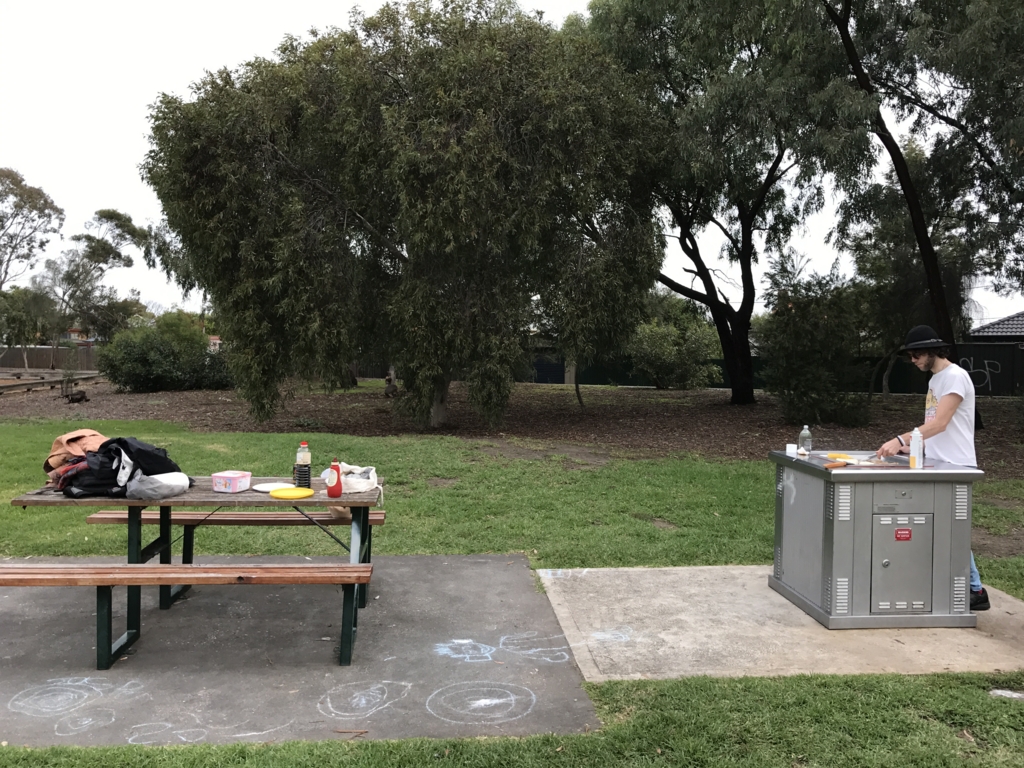 We had good lunch. Beside we bought some food from supermarket. Today's lunch is low price. Yeah luckey us:):)
I thought if in japan have kind of like this BBQ grill style we'll have a lot of problem. For example who clean it? Someone say it's unsanitary condition who is managinig? brabrabra,,,,,
My boyfriend told me who tought aussie love to BBQ that australian culutur. He couldn't find BBQ grills at the parkp in Canada.
Ahhh I got it, because my house mate also have his own BBQ grill in our house. They love to BBQ. Recentoly in Japan very popularity to outside activities, I hope everyone more  like to play outside. Like a having a BBQ in park. We can get good communication skill maybe??Lol
By the way we had BBQ after we have to clean BBQ grill that is the most important things. We can keep a clean here by themself it's in australian manner.
Thank you for reading my blog. I came to Aus then beceme like to BBQ.
I'm really enjoy Aussie life:):)hahaha
こんにちは!ただいまオーストラリアではイースターホリデーと言う4連休の最終日です。
私も二連休だったので、今日は外でピクニックしました。
オーストラリアに来て思うのが、公園が街中やちょっとした郊外にたくさんあって、そしてタダで使えるBBQプレイスがあるんです。
今日は彼と外でランチしようと言うことで、家から歩いて4分ほどの公園にやってきました。
タダだからみんな汚いと思うでしょ?だって日本にこーゆうのあったら多分汚そうだもんなー。が、しかし案外綺麗だしテーブルや水飲み場も近くにあります。
便利だねー!!
早速持ってきた、おにぎりとトウモロコシとソーセージを焼いて食べました。
アツアツを食べれるし、外で食べるご飯はまた一段とうまい!!なんでもない普通のご飯がとっても美味しくなるね!
日本にもこーゆーのあったらみんなもっと休日楽しめそう。でも、きっと誰が管理するの?とか、不衛生とか言う人もいるだろーな。まー気持ちもわかるが、、、私だってここにきて、ここで生活して変わったと思う。
私の住んでる地域はメルボルンの街中から、路面電車で約30分くらいの地域なんですが、住宅街だし、とっても静かでリラックスできます。
今日は公園に子供連れの家族や犬を連れた人がちらほら。
おばあちゃんに声をかけられたりで、終始穏やかに過ごせました。彼がお年寄りに声かけられるのが大好きなので、彼はめっちゃ嬉しそうだった。笑
そして使った後はちゃーんと綺麗に掃除して帰りましょうね!世界共通のことだけど、ここではとても大切なマナーです。
日本はこれからBBQにぴったりの季節だね!!いいなー❤️
おまけ
ハッピーイースター!🐰